РОДНОМУ ЗАВОДУ – 80 ЛЕТ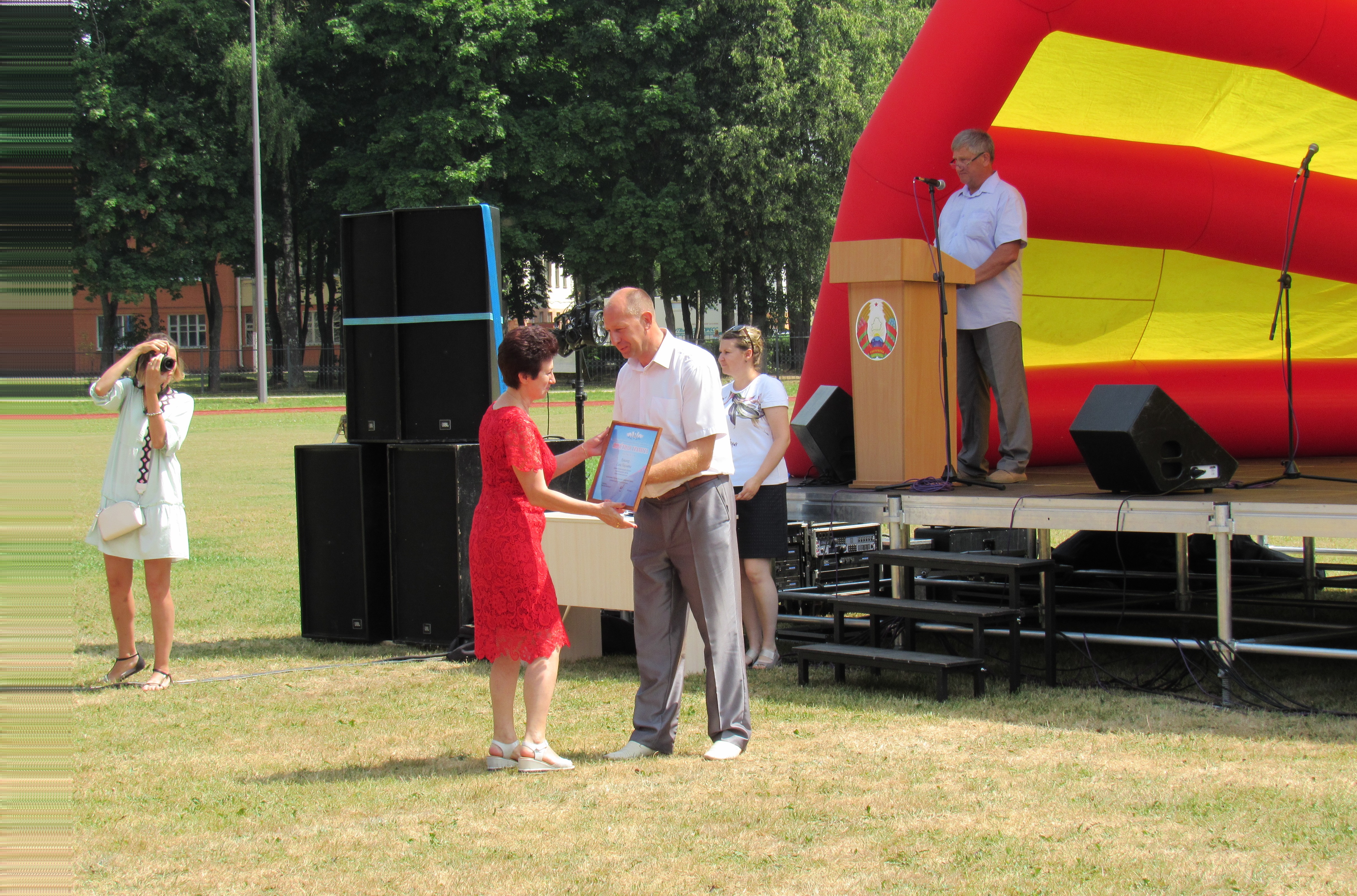 Celebration of the 80th anniversary of the enterprise became a real unforgettable event in the life of the plant workers. The holiday traditionally began with a minute of silence and the laying of flowers and wreaths at the monument to the twice hero of the Soviet Union to the fighter pilot Sergei Gritsevets and the monument "Glory to the Valiant and Armed Forces of the USSR".
The Minsk Aero Club named after Sergei Gritsevets over the Olympus stadium in the town of Bolbasovo pleased with the grandiose and spectacular airshow. Parachutists with the State flag of the Republic of Belarus landed here. Pilot Leonid Kursov demonstrated his mastery of aerobatics in MI - 2 performing several passes at extremely low altitude.
The celebration was attended by famous and honored guests, among whom there were many invited representatives of organizations and firms of the Republic of Belarus, the Russian Federation with which our enterprise cooperates. Many honored veterans of the plant also attended.
General Director of Orsha Aircraft Repair Plant OJSC - Pavel Sluchak made a presentation. In his speech, he noted the high professionalism of the labor collective, the willingness to selflessly work for the benefit of his native enterprise and the Republic of Belarus. Special words of gratitude were addressed to labor veterans and production leaders of the open joint-stock company.
Leonid Zarubin, Viktor Bolotin were recognized as the best in their profession and were awarded the "Ganarovy Transportnik" medals of the Ministry of Transport and Communications. Honorary diplomas of the State Military - Industrial Committee of the Republic of Belarus were awarded - Vladimir Savitsky, Alexander Golynets, Elena Yakovenko. From the Orsha District Executive Committee, Deputy Chairman Sergei Pats awarded honorary diplomas to Alexander Bobrov, Elena Kovalenko, Ella Kanadeeva. The diploma and the football cup of the Orsha region were presented by the chairman of the Bolbasovskiy executive committee, Gleb Gulenkov, to the instructor - methodologist for physical culture - health improvement and sports - mass work - Natalya Kovaleva.
The holiday continued with a mass celebration on the square near the House of Culture and performances of amateur performers - director Oksana Pavlova. There were trade enterprises, children's playground rides. Those who wished could make an unforgettable excursion on the MI - 2 helicopter over the city village. And in the evening, the participants of the solemn events and the residents of the village were awaited by the performance of Russian pop stars with the participation of Alexander Dobrynin, Svetlana Lazareva, Sergey Dubrovin, Artur Rudenko, invited by the trade union committee of the enterprise.
In conclusion, a festive fireworks took place.